We may earn a small percentage of money from some products mentioned on this blog if you click through and make a purchase. This costs you nothing extra but allows us to support this website, our tea obsession, and our very high-maintenance cats.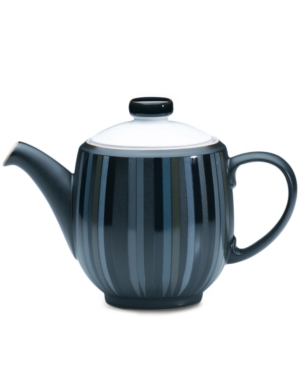 The handsome Denby Dinnerware, Jet Stripes Teapot
shown here is available online from one of my all-time favorite retailers – Macy's.
Macy's – so you know the quality is as good as it gets while the price keeps everything within reach.  Why can't more retailers accomplish what Macy's seems to do effortlessly?
Product Description:
Perfect for every day use, this stoneware is versatile and stylish. A colorful striated pattern lends your tabletop modern polish. From Denby's dinnerware and dishes collection. Holds 2 1/4 pints.
Stoneware
Dishwasher and microwave safe
There are other pieces in this handsome serveware collection including…
An Oval Platter
Covered Sugar Bowl
Serving Bowl
Casserole Dish
Rectangular Baking Dishes
A really great looking Creamer
Click the link or the picture of the pitcher (say that 3 times fast) for more information.